So this Christmas I created a very extensive Christmas wishlist and a fair few of them were beauty based. I also received plenty of surprises, below are some of my absolute favorites: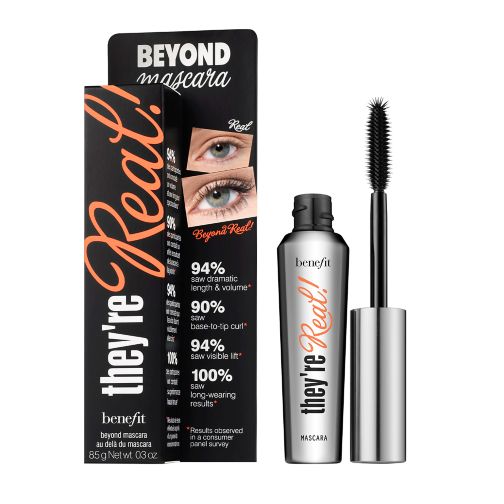 As promised, I asked for the Benefit: They're Real Mascara, after being persuaded by the Benefit: They're Real Primer. In all honesty, I felt slightly disappointed when I first applied this mascara as with it being a fairly expensive product I think my expectations were just very high. However, since I've got more used to the mascara and the way it should be applied, I have come to love it more and more! The wand is plastic, which is surprisingly, my preferable wand and the bristles are very short but i find this means they catch and comb up through the lashes very well giving them an even curl.
So in terms of living up to expectations, I am giving this product a 4.5/5.
Another gift I received was the Urban Decay All Nighter Setting Spray. Now, I have only used this product once which was actually on Christmas Day. I had medium coverage facial make up, however glittery gold eyes and a deep red lip. Unfortunately, as per usual, my lipstick had rubbed off after around 3 hours however my facial make up still appeared untouched and there was little drop down from my eye-shadow. Therefore, I'm also rating this product a 4/5.
Although this product was not on my wishlist, I am so so pleased with it! I haven't actually used it yet because it's just like a cake that's too good to eat, I daren't touch it! But, I've heard fantastic reviews on it and the colour is absolutely stunning!
So, as an extra little surprise, I was given this Tanya Burr lip gloss by one of my closest friends. I've never purchased a youtubers or celebrities beauty product before because I don't necessarily feel like they are the best products out there as their careers have been in the media, not beauty. However, this products pigmentation is incredible, not to mention the staying power despite the fact it is very tacky.
Therefore, I rate this product a 3.5/5.